Hi, I'm Clare. I work on Product Growth at Nye Health. In this blog you'll get all the tools you need (including 15 ready-made games!) to run funtivities at your workplace and start turning virtual meetings into opportunities to bond as a team, have a wholesome giggle and most importantly, have some fun!
What is a Funtivity, I hear you ask
A Funtivity is a fun activity. In this case, it's fun games and team building activities that you can play with your co-workers on Zoom or other online meeting platforms such as Google Meet or Microsoft Teams. At Nye Health we LOVE a funtivity.
Definition of Funtivity from The Oxford Nye Health Dictionary
How come I know so much about Funtivities?
When the C-word that shall not be named came along in March 2020 and all work went virtual, it became much harder to have those spontaneous silly moments with colleagues. We wanted to make sure those team-building opportunities were not lost (plus, we can't resist an opportunity for some fun!). So The Magic Nye Tree was born. A regular meeting that was dedicated purely to being a bit silly and having some fun.
The Nye Health team playing a funtivity during a Magic Nye Tree
I, as by far the silliest member of the Nye team, presided over this meeting. I also happen to volunteer for a grassroots organisation called One HealthTech (OHT) which exists to drive diversity in health innovation. At OHT we run events and often like to throw in a little game or virtual activity to liven things up. Between the two of these, I've spent a lot of time thinking about funtivities.
So now, almost 2 years into the pandemic, I can safely say I've learnt a fair bit about:
How to make virtual meetings more fun

How to make Zoom games more interactive

How to make the participants feel comfortable and included

What sorts of team activities work well virtually, as well as…

…which don't! (some icebreakers honestly lead to nothing but awkward silences and therefore should be avoided at all costs!)
I have also built up quite the repertoire of virtual games. And this, dear readers, is what I have decided to so generously share with you today!


How to use the funtivities


In a dedicated session
At Nye, we have the Magic Nye Tree, a dedicated meeting for funtivities. In some workplaces that might seem crazy but, in the age of remote working, making time for a fun meeting like this is so important! When you all work in an office together you get to know each other because you see all the stuff that happens off-screen. You just don't get that at all virtually.
As part of a regular virtual meeting
If you don't want a dedicated session, you can also add one into a regular team meeting such as an All-Hands or Town Hall. This can work but gets tricky if the actual material of the meeting is quite serious. If you do funtivities first then you're going into a serious meeting all hyped up. And if you do meeting first then you go into the games with a work mindset on. Either way - not ideal but possible with a little extra thought.
As an Ice Breaker
Some of these games can be an excellent way to start a workshop or creative session. Breaking down some barriers and making people feel comfortable before you get going.
In-person
Many of these games are actually very transferable and can be played during face-to-face sessions or even as parlour games with your friends!
Golden rules of funtivity design
If you feel inspired and would like to have a go at coming up with some of your own games or even if you just want to modify some of these funtivities, it's worth reading these top tips:


1. Keep it simple
Try to choose virtual games that are based on well-known formats (TV game shows, children's party games etc) or that are simple enough that all the instructions can be shown in one slide. That way you maximise time having fun rather than time learning a new format.
(I learned this the hard way when I tried to get us playing Ultimate Werewolf. Unfortunately, getting our whole team to get the hang of it virtually took so long that the meeting was nearly over before we got started)
2. Make it about them
Maintaining engagement is one of the things that is just so much harder virtually than it is in person. One way to combat that is through making your activities as interactive as possible.
Ideally you want to keep the time where you are speaking to an absolute minimum. Instead, find ways to cast the spotlight on willing teammates.
3. Find any opportunity to learn


When you're in person it's much easier to learn about teammates. In the space of one lunch break, just through random conversations, you might learn that Julie loves Korean cookery, Jamal is into exotic fish and Jenna is a Morris dancer.
It's these sorts of interactions that are near impossible to recreate virtually but little nuggets of information like this are what bring a team to life and help people to bond.
So how do you create them virtually…? Well, through games of course! When you're designing your virtual games, look for any possible opportunity for colleagues to learn about one another and share a bit more about who they are themselves.
4. Spread the pressure
Rule 3 basically tells you to be a side character in your games, whilst team members take the lead. This is true but proceed with caution! Try to avoid game formats where one person has a lot of responsibility or where they feel a lot of pressure to be funny or share information.
Even teammates who willingly volunteer may find that once all of the (virtual) eyes fall on them, they feel uncomfortable. Obviously, that's the number one thing we want to avoid so if you can, try to share the limelight.
5. Preparation
This is a rule of two parts
Part 1: Get your team prepped - some games require people to submit information or answers ahead of time. Make this as easy as possible for people!
Inform people of what is required as early as possible

Make your request as clear as possible - it's worth spending an extra 5 minutes writing a clear and engaging request

If you can, include an example of the sort of thing you're looking for

Don't ask for too much! For a simple game, input beforehand should not take participants more than 5 minutes to submit. (If you're doing a full team building day or social activity session then this can be more)
Part 2: Get yourself prepped - putting on a high-quality game production will simply make it more enjoyable for participants and they'll be more likely to stay engaged. If you have to hunt around for a browser tab, or wait for something to load whilst people wait then people will naturally drift towards checking emails or updating Slack and once they do that, you've lost them!
6. Culture
Get senior buy-in for sessions like this! It won't be fun for anyone if participants are feeling guilty or as though they ought to be spending this time working.
This is a ticket that was submitted at our January Retro. We're a team that is very humble about our hilarity.
At Nye, we're lucky to have a pretty awesome team culture and a Senior Leadership Team who heartily partake in funtivities. If your workplace doesn't enjoy such a culture then ask senior team members to at least endorse the session but ideally to come along!
7. Timing
Keep it snappy! As fun as your games are, no one wants to do anything virtual for too long! Go for the little and often approach if you can.
The Games!!!!
Below are listed 15 of my favourite, tried and tested, funtivities. Each one is rated by:
Players - how many players would work best, though you could easily modify some games to be suitable for more or less people.

Time - how much time you need to assign for the game. Most timings are a function of how many players you have or how many rounds you wish to play so you can usually make adjustments to suit the time you have available

Effort - the time and effort you will need to put in ahead of time to make this game work. For a low rating game you're looking at maybe 5 minutes, for a high rated game it could be up to 30 minutes.
Each game has a link to the template slide deck which has everything you need to run this game!
In each template slide deck you will have:
The Title Slide

The Facilitator Slide(s) - gives instructions for the facilitator (that's you!) e.g. any prep work or some top tips (orange background)

The Player Slide(s) - gives instructions for players of the game (white background)
Before you play your chosen funtivity with your team, make a copy of the slide deck, add slides as needed and then delete the orange Facilitator slides (these are just instructions for you - you don't need to show them to the team!)
Game

(scroll down for the details! )




​Masters of the Portrait Gallery

​Culture East Funtivities for Breakfast

​2-4 minutes per catchphrase

​Highest (but it's worth it)

​2-4 minutes er statement
Livin' that Emoji Life
This game is a great way for colleagues to learn more about each other! You ask everyone to submit their life story but the catch is, they can only use emojis! You then show each story one at a time, asking the rest of the group to guess whose life is being represented. Once the team has correctly guessed you can ask the person who submitted it to explain more about what each Emoji represents.
This is an AWESOME way to learn more about your colleagues. When we played it at Nye we learnt all sorts including one team member's youth growing up with giraffes!
One of the life stories submitted during our Magic Nye Tree games session
Truth or a Nye(Lie)
"Everytime an emergency services vehicle passes me on the street, in my head I whisper 'fly you fools!'" A truth, submitted by Andrew from Nye Health.
You've probably heard of two truths and a lie before.
At Nye we love inserting the word Nye in anywhere we can (🍍 Nye-napple, 🦕 Ny
e-nosaur etc) so for us, this became Truth or a Nye.
If you've never played it, here's how it works - a player gives three statements, two are true but one is a lie. The object of the game is for the other players to identify which statement is the lie.
Humdingers
This game is a bit like the game Telephone except instead of words it's tunes! Players will need to hum a tune to each other (virtually) and then perform what they heard to the group to see how well they can recreate it.
My main advice here would be to choose songs that are suitable for your audience! When I played this with Nye I chose the Archers theme tune which totally baffled our younger team members. If you're struggling for tune ideas, I've included a whole list of suggestions and their Youtube links in the Template Slides.
Masters of the Portrait Gallery
The CEO, Gary from Nye Health, 2020
This game is kinda like Pictionary but instead of drawing objects you're drawing each other! It can be pretty hilarious and it's really lovely to see some of the (sometimes surprisingly good!) artistic talents of your team mates.
Debate Club
Cher Horowitz arguing for the motion that "all oppressed people should be given refuge in America" by stating that "the more the merrier!"
Pretty self explanatory, this game is about getting your colleagues to debate on a topic. Ideally topics should be as silly as possible and definitely steer clear of political topics or ones that may get heated. If you need some ideas, I've included lots of suggestions in the Template Slides.
Culture Eats Funtivities for Breakfast
This game gets players to guess what their teammates have had for breakfast.
When we played this we had some very surprising submissions, from the extremely wholesome - "a bowl of natural yoghurt with pumpkin seeds + almonds + a few blueberries" to the very nutritionally deficient - "Just a tray full of coffees" to the downright weird - see the photo for our CEO's submission!
We're Both Humans
This game is all about finding the things you share in common with team mates. Players are placed in breakout rooms with another person at random. They must then list all the things they have in common. Some members of our Nye team sneakily included "we're both humans" in their list of shared characteristics. To be fair, they were not wrong and I have therefore honoured them here by renaming this game for them. Of course, this name does slightly fall down if you intend on playing with aliens…
Draw the Owl
In this game, you cannot say "Draw the Owl"!
This game is kinda like reverse pictionary. One member of your team must describe an image for the rest of the team to draw.
It's also one that works really well in person as a parlour game - see below for some in-person attempts to recreate the cow that was being described.
Some of our attempts at drawing the cow, using only spoken instructions
Catchphrase
Yes, this is basically just the very well known TV game show except, in this version, the pictures are created by the players. It's fun playing the actual game but seeing the hilarious creations your team comes up with is probably the best part of this game.
Would I Nye (Lie) to You?
Some of Nye's liars and their object of choice. But was it a maraca used in the filming of a Happy Mondays music video or one presented to the owner by a famous American football Star???
As mentioned previously, we love to Nye-ify words so we made this "Would I Nye to You?" but essentially, this is just a virtual version of the BBC show Would I Lie to You?
A player will need to find an object in their home and tell a good story about it, the catch is - two other players will make up lies about this same object. The team needs to figure out who's telling the truth and who's telling the lies!
This is one of my favourite games because the truths are often even weirder than the lies!!
Moon Castaways
Here's my perfect moon! So please note, if you plan on casting me away, it's essential that the destination has waterslides.
This game is a really lovely way to learn about what makes your team feel comfortable and the (sometimes surprising) things they feel they could never live without. Ahead of time you'll need to ask players to create their ideal Moon. The rest of the team will then try to guess which moon belongs to who.
Where in The World?
Warning: this game is very addictive!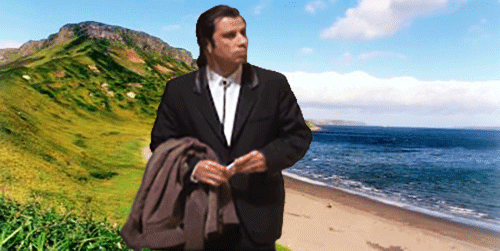 Your team will be landed at a random location that could be anywhere in the world! Collectively you'll need to work out where you are!
This one is great for problem solving and communication but it's also a great way of opening up conversations about some of the countries you get landed in.
Life Imitates Art…?
They say that life imitates art and in this game that's certainly true. Your teammates will have to create improvised costumes as they attempt to recreate a famous painting. Mainly, this is just an excuse to get everyone wearing something very silly.
I also played this during a One HealthTech virtual event. It was a great way to break the ice as people came back on screen wearing colanders on their heads!
Nye recreating The Arnolfini Portrait! Special mentions to Nye Co-Founder, Imran's amazing effort at turning a yoga mat into a dress and to our CTO, Bill for recruiting his genuinely pregnant wife to help him recreate the art!
Would you rather?
Everyone is familiar with the concept of would you rather - players are presented with a selection of unappealing options and must choose the lesser evil. In this version though players are tested on how well they know one another by being asked to guess which horrible fate was chosen.
Choosing safe-for-work questions is key here. Obviously what passes at appropriate varies greatly across organisations so I would aim to stay on the safe side if you're at all worried. To help get you started I've included a bunch of WYR questions in the Template Slides.
Some creative problem solving being demonstrated by Martin, our Head of Product.
...or is it just me?
In this game you'll get to learn about some of the weird and wonderful things your colleagues do or think. Players must submit true statements about themselves E.g. "Does anyone else have a routine of websites they check in the morning when sitting on the loo, or is it just me?" or "Does anyone else eat a kiwi like an apple, or is it just me?". You'll then poll the group to see how many others do this and then try to guess who submitted it.
That's all for now! Check back the next instalment which will be a Festive Special Edition!
P.s. if you think working at Nye sounds like fun, we're currently hiring! Check out our jobs here.